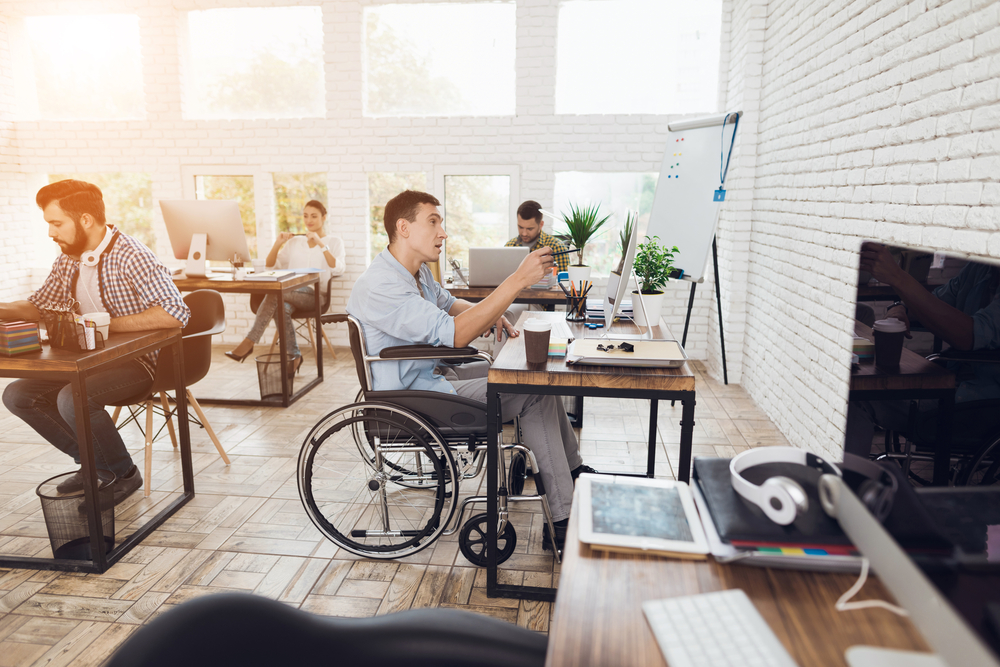 Getting around in the physical world is something many of us may take for granted. In UK this situation has been reviewed in The National Disability Strategy 2021 recognized and addressed, but more must be done, by best practice that protect people with disabilities from discrimination and guarantee them greater access to employment. We need to change the physical and social character of communities. We should embrace access to employment, services, education, the functions of government, and full civic participation.
What Do We Mean By Ensuring Access For People With Disabilities?
The term 'disability' means an individual has a physical or mental impairment that substantially limits one or more of his/her major life activities or an individual is regarded as having such an impairment. Caused by injury, disease, medical condition, neurological, chemical or developmental factors, severe disabilities affect about 14.1 million of the UK population.
About 21% of the population has some level of disability, a figure that expands to 72% for those 80 and older and shrinks to 11% for children ages 6 to 14. Four percent of the population over the age of 6 is severely enough disabled to need personal assistance with one or more activities of daily living. In global terms over 1.2 billion people have a disability impacting over 15%+ (likely 23%) of our one world, 1 blood colour.
Disabilities can be visible or invisible, physical, or otherwise. Most can result either from hereditary conditions or pre-birth developmental issues; from injury; from disease; from chemical imbalances; or, in some cases, from environmental factors.
Why Ensure Access For People With Disabilities?
People with disabilities have the same rights as others, including the right to fully participate in community life.
Denying people access to services is not only unfair; it wastes human resources and makes society poorer. Genius with unique world challenging solutions is invariably Neuro – Diverse.
It makes good business and economic sense. For commercial operations of any kind, accessibility means that people with disabilities can become customers, increasing sales volume and profits.
Annual spend in the UK by disabled families is worth 274 billion pounds annually and $13 trillion globally.
People with disabilities add diversity to the community, and that diversity enriches the community. If they can integrate into the community, they will have the opportunity to make more friends and more people will have the opportunity to know them.
Access for people with disabilities improves access for everyone. Making public spaces and facilities physically accessible for people with disabilities also makes them more accessible for people who may not have disabilities, including families with baby walkers, skateboarders, and bicycle riders. Making ramps a built-in feature of the environment benefits everyone.
Access in Employment
Under the National Disability Strategy, it is illegal to discriminate against hiring anyone based on a disability unless that disability interferes with the basic job function. A blind person doesn't have to be considered for a job as a painter, or a deaf person for one as a music critic. Where the job function isn't in question, however, someone with a disability has to be considered in the same light as all other applicants.  If he, she, they are the most qualified and the best candidate, they should be hired regardless of any disability.
An employer can ask candidates about skills & abilities, in the context of making sure that they can do the job.  A firefighter has to be able to carry 100 pounds up and down a ladder.  If a candidate has a bad back, that's a problem – he may injure himself taking the physical test, or his back may go out on the job at the worst possible time.
Once an employer has hired a person with a disability, they are under an obligation to make accommodations, to the extent possible, to enable that person to do her job as easily as other employees in similar positions. If they are in a wheelchair, for example, the employer might ensure that their desk is at an appropriate height for them to work comfortably. Their workspace might be located reasonably near the office entrance, with a clear passage to the elevator, the accessible toilets, meeting rooms, and the offices of colleagues with whom they need to collaborate. If their job makes it possible, they might be allowed to work from home some of the time.
Accommodation also should be made for signage, communication, and other accessibility factors, including an evacuation plan with which her co-workers are familiar. None of this means that a person with a disability has to be hired – only that they can't be discriminated against because of their disability.  If they're clearly the best-qualified candidate, and someone else is hired instead, they can question the decision, or even sue.
By the same token, they can be held to the same performance standard as other employees.  If they are not doing their job well, they should be treated as any other employee would.  If they are fired for not performing, that means that any other employee would have been fired for the same level of performance under the same circumstances – the same number of warnings, the same level of support to try to improve performance, etc.  Non-discrimination doesn't mean favoritism, but it does mean fairness. Accommodation's & Improved Accessibility level the playing field so that everyone can play by the same rules.
In Recruitment of Talent: It calls for a change in basic attitudes, that attitude change won't have been accomplished until a great majority of people around the world understand that individuals with disabilities are individuals who are not defined by their disabilities. Everyone is unique and has their own abilities and talents with ambitions; to achieve that end, we must demand enforcement and embrace of The National Disability Strategy and regulations that protect those individuals' rights, work for policy change and the passage of regulations in places where they don't exist, collaborate with those who run departments, companies, design, build and fund projects where accessibility can be built in – there is significant ability in people that needs to be embraced and empowered and at Kaleidoscope Group we are supporting and assisting those in need, with a disability.
What Are Kaleidoscope Group Doing To Promote Talent
There are many helpful advocacy organisations out there. Kaleidoscope Group work with talented individuals with disability, as well as entrepreneurs with disability, to ensure the empowering of ambitions and companies are realised.
At Kaleidoscope Group, our vision is to help shape a world where we see no difference in 'different' and where every disabled person is given a fair opportunity to realise their full potential and find purpose. We offer expert training, knowledge and guidance on all thing's disability. From Kaleidoscope Recruitment for employers and employees, Kaleidoscope Advisory for a company-wide review assessing policies, practices, recruitment and hiring processes, leadership, monitoring, engagement and physical / environmental accessibility, along with Kaleidoscope Investments for aspiring disabled entrepreneurs.