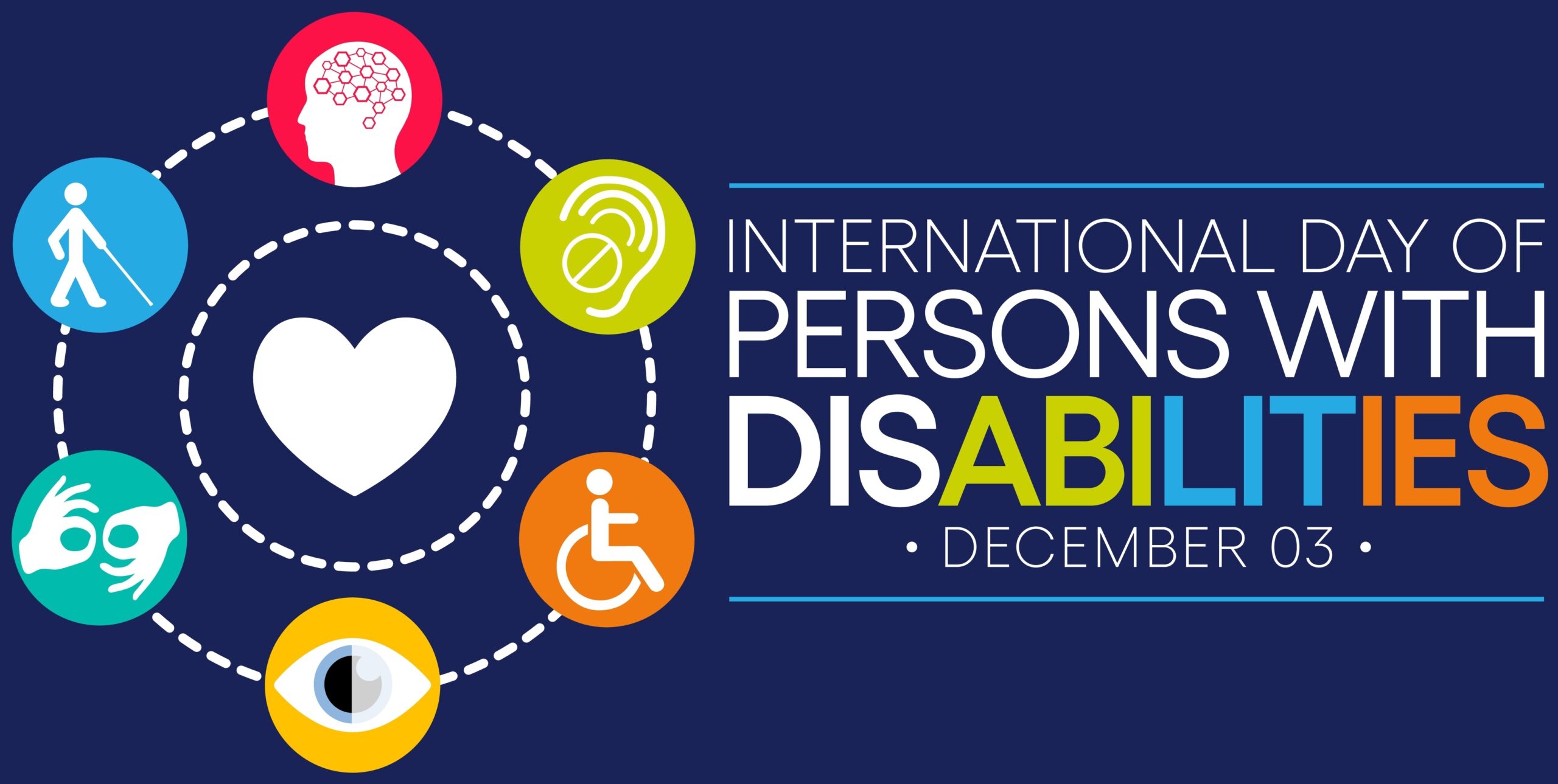 Celebrating – International Day of Persons with Disabilities-United Nations. 3rd December 2021.
International Day of Persons with Disabilities Day UN – celebrates talent with ability, innovation and a net profitable approach to life that embraces the senses naturally, and sustainably. The Umbrella of Disability hides so much talent, AI & DI; Ability and Innovation, Diversity, and Inclusion. Diverse workforces make business more money in a more accessible world.
United Nations: "As the world recovers from the pandemic, we must ensure that the aspirations and rights of persons with disabilities are included and accounted for in a -inclusive, accessible and sustainable post COVID-19 world. This vision will only be achieved through active consultation with persons with disabilities and their representative organizations." Director: António Guterres.
International Day of Persons with Disabilities Goals: Building Back Better: toward a disability-inclusive, accessible, and sustainable post COVID-19 World – Disability inclusion is an essential condition to upholding human rights, sustainable development and peace and security. It is also central to the promise of the 2030 Agenda for Sustainable Development to leave no one behind. The commitment to realizing the rights of persons with disabilities is not only a matter of justice; it is an investment in a common future. The global crisis of COVID-19 is deepening pre-existing inequalities, exposing the extent of exclusion and highlighting that work on disability inclusion is imperative. People with disabilities—one billion people plus— are one of the most excluded groups in our society and are among the hardest hit in this crisis in terms of fatalities.
Even under normal circumstances, persons with disabilities are less likely to access health care, education, employment and to participate in the community. An integrated approach is required to ensure that persons with disabilities are not left behind.
Of the one billion plus population of persons with disabilities, globally, 80% live in developing countries. The Purple Pound represents $13 trillion in annual spend by persons with disabilities and their families.
An estimated 46% of older people aged 60 years and over are people with disabilities.
One in every five women is likely to experience disability in her life, while one in every ten children is a child with a disability.
Persons with disabilities in the world are among the hardest hit by COVID-19.
In UK over 14.1 million people, over 20% of the population have a disability spending over 274 billion pounds a year.
UK data summary: 4.4 million with disability are in work out of 14.1 million people; 8% of children are disabled; 19% of working adults are disabled; 46% of pension age are disabled.
UNITED NATIONS DATA & UK government gov.uk
Diverse workforces make business more money in a more accessible world and maintaining a diverse workforce is imperative for modern organisations to succeed. Companies with a diverse staff are better positioned to meet the needs of diverse customer bases, and the cash flows of diverse companies are 2 times higher than those of companies without. Diverse companies are more likely to capture new markets than organizations that do not actively recruit and support talent from under-represented groups.
Providing education and training that is tailored to their needs can alleviate this mentorship disparity. Industries that are facing difficulties in recruitment and retention of diverse talent such as STEM fields must take extra steps to create training, mentorship, and professional opportunities that are specifically tailored to underrepresented groups.
Learning and development programmes can take organisations and entire industries to new heights. Robust educational programmes attract and retain quality employees, particularly with access to online learning tools. The availability of skills training and learning tools are directly linked to attracting and retaining a diverse workforce.
AI & DI; Ability and Innovation, Disability & Diversity, and Inclusion = greater profitability
By embedding inclusive values into corporate culture and prioritising closing skills gaps stemming from marginalization, a positive top-down change results that can ripple across the business world, in general. Diverse companies are more profitable and more likely to achieve long-term growth in their industry.
A McKinsey study "Why Diversity Matters," companies in the top quartile for gender-diverse executive suites were 15% more likely to generate above-average profitability compared to other companies whose executive teams were predominantly white and male. When it comes to staffing, companies that have higher degrees of racially and ethnically diverse employees have a 35%+ performance advantage over companies relying on a "culture fit" that tends to trend white and without Disability, Diversity & Inclusion.
Companies with diverse talent and executives are more likely to retain the best talent and drive sales and loyalty through larger varieties of customers.
Diverse companies attain 19% higher revenue than without disability, diversity companies on account of greater innovation. Providing education and training that underrepresented groups may not have had access to in the past can foster innovation by exposing employees to new skills and ideas. With millennials and Gen-Z becoming the dominant generation in the workforce, attracting young talent must take diversity into account given that they are the most diverse generation in Global history. A Deloitte Millennial Survey stated workplaces will have greater innovation if management actively makes disability, neuro diversity, diversity, and inclusion a key component of organizational culture.
Investing Insights with Global Embrace
Having diverse employees bodes well for creating value and innovation, but so does having access to quality educational resources on a regular basis. There is a strong correlation between on-the-job training and education and employee retention and ongoing business growth, diversity, and inclusion measures also factor into this as far as innovation and value creation go.
Invest in employees
Education helps increase employee retention by providing more opportunities for upskilling in-house instead of engaging in costly talent searches. COVID 19 necessitates greater spend per employee in Mental Health, while retaining an employee with training and learning tools saves money and builds productivity and innovation in the long term.
Companies that provide learning opportunities for their employees will have competent and motivated workers who feel more secure at their jobs.
Secure and engaged employees are not only more productive, but they also help ensure that the organisation will achieve long-term growth. Education and training provide fuel for long-term growth since they are an active investment and demonstration of trust in employees.
Innovation in creating strong diversity and inclusion initiatives and overall employee engagement, promotes innovation and profitability. Training and education are crucial for growing a workforce's skills and putting the organisation's contributions to the industry at the forefront. Online learning has evolved in recent years and has been successfully deployed in several industries and organisations. A digital learning programme that employees can participate in at their own pace is also a cost-effective way to make them feel valued and secure in their careers.
Top employees increasingly are drawn to businesses with a social mission
It's time to get behind technologies that can make a significant positive impact on meaningful numbers of people.
Geography and accessibility: The best innovations — are those that make a valuable product or service widely available. Geography, just like price, is a factor that can limit accessibility. Winning Start-ups are using technology to shorten the distance between people, cities, or countries.
Diversity: Diverse management teams are arguably better at reaching and attracting diverse populations. Increased diversity is good for the world, and doing the right thing is often helpful to the bottom line.
Doing good is positive business: Business must scale, prosper, and offer a strong return on investment. Doing what is good, natural and sustainable is promoting greater profitability for tomorrow to exist.
Good News: Often, social impact businesses are simply better businesses. For starters, businesses that aim to help a diverse set of communities have a far larger total addressable market.
Millennial- and Gen Z workers want their work to mean something
Not only do social impact businesses tend to have a larger potential customer base, but they have also grown in stature and value because of the quality of the talent that wants to work in impact companies. Millennial- and Gen Z workers want their work to mean something, and they want to pitch in on some of the world's most daunting problems without having to wait until retirement to make a difference. Innovations in software and other enterprise technologies have lowered the barrier when it comes to launching and scaling new businesses. There are now more opportunities than ever for investors and entrepreneurs to do well for themselves and society. It is important to keep in mind as we strive to meet the United Nations' sustainable development goals aimed at reducing worldwide inequality, disease, and ecological destruction, and respond to a global health emergency that threatens millions of people.
Ernst Young launches first Neuro-Diverse Centre of Excellence in the UK to boost client innovation
UK Neuro-Diverse Centre of Excellence has set an ambition to hire 150 neurodivergent individuals, who will work within integrated client teams across the UK.
Globally, EY already has six centres established in the US, with others in Canada, India, Poland and Spain.
Based on the experience of EY in the US, when compared to their colleagues, neurodivergent employees excelled at innovation.
Neurodivergent individuals will be hired this year to accelerate their clients' technology transformation plans, and drive creativity to solve the most challenging business problems.
The Neuro-Diverse Centre of Excellence in the UK, fuels innovation in technology, bringing a new dimension of creativity, and drives greater diversity and inclusion in the workplace. The company continue to learn from contributions of their current neurodivergent employees, the centres will provide an employment path for those who have not had access to equal opportunities.
The UK centre is designed to create a supportive working environment for individuals with cognitive differences – such as autism, dyslexia and ADHD – that will help them to apply their strengths and meet clients' business needs in emerging technologies, such as: artificial intelligence, data analytics, automation, blockchain and cyber.
Multi-dimensional high-performance teams: Just 22% of autistic adults are in any kind of employment in the UK, according to the Office for National Statistics (ONS). Yet, they are typically highly proficient in some of the 'in-demand' skills of right now, and in the future.
In the last 12 months we have seen more than ever, the importance of purpose in business and the role that employers can make in helping to drive social change. As a business leader, accelerating progress on diversity and inclusion in the workplace makes commercial sense and fits the purpose – Building a Better Working World.
Recruitment
Ernst Young has already begun to adapt its recruitment processes and working environment to support the talents of neurodivergent employees. EY aims to recognise the potential of all employees. Established employee networks that support people, and their family members, with dyslexia, dyspraxia, autism and more. The Centre will be a further step in progressing diversity and inclusion in the workplace and accessing the largely untapped talents of those with cognitive differences. The goal is to activate the exponential power of neurodiversity which will enhance the service provided to clients. Neurodivergent employees excelled at innovation, brought greater diversity of thought and creativity, a true differentiator-such an initiative can change lives and build a better working world." Notably the Valuable 500 CEOs and their companies have put disability inclusion on their leadership agenda and made a commitment to action.
What is Kaleidoscope Group doing to promote talent and International Day of Persons with Disabilities
Kaleidoscope Group celebrates with The United Nations sentiments and summary goals. People with disabilities represent over 15% of the world's population which is over 1.2 disabled people globally. World Health and World Bank Data. At Kaleidoscope Group, we are globally committed to employing talent and skills of people with disability to improve innovation in sales, service, operations, loyalty, and net profitability. Revenues combined over $13 trillion annually across 200 countries.
World Population: 2021 7.9 billion
Disability Population: 1.2-1.85 billion people over 15% of the world's population (Reality 15%-23%)
UK Population: 67.2 million (1%+)
UK Disability Population: 14.1 million (20%+)
Purple pounds spend and links…UK 274 billion pounds annually, globally over $13 trillion annually
Kaleidoscope Group and The Kaleidoscope Foundation is a disability inclusive organisation – empowering talent and ambition for ability with disability. We embrace and promote change to enhance life for a significant percentage of the National and Global Population. The benefits presented through disability in government, life and business added value affects consumers, employees, and across all the communities. Considerations of and through disability inclusion, offer a more inclusive and accessible future, embracing ability, empowering ambition, and talent.
At Kaleidoscope Group we promote and support STEM Education, building on neuro diverse talent, bringing innovation to companies, communities and nations, profitably. A STEM education teaches students the skills necessary to solve tough problems, gather and evaluate evidence, and analyse information, as well as opens up a wide range of career possibilities. A future where every child deserves a high-quality education and an opportunity to shape a better world through these fields. At Kaleidoscope Group "Our vision is to help shape a world where we see no difference in 'different' and where every disabled person is given a fair opportunity to realise their full potential and find purpose'.
The Kaleidoscope Foundation support the relief of poverty and underemployment of disabled people through the provision of education, training, business support and grants to enable individuals to achieve sustainable and self-supporting livelihoods.
Donate now: The Kaleidoscope Foundation: https://thekaleidoscopefoundation.org/#7d054402-e5ab-4e0e-99bc-73d9c5c0dadd