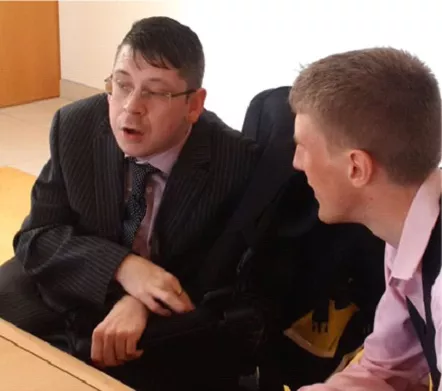 FOCUS ON THE POTENTIAL, NOT THE PROBLEM…
All major disabilities were represented at the launch of an outstanding new initiative to inspire Disabled Entrepreneurs to run their own business. Organised by new enterprise Kaleidoscope
Investments, the brain-child of former Financial Services expert Hardeep Rai, both he and his partner disabled entrepreneur Shane Bratby presented the inaugural event at RBS London HQ on Wednesday 27th May.
The seminar, headlined by keynote disabled speakers who were all successful business owners in their own right, entertained and captivated the gallery, all eager to make their business dreams a reality. Kaleidoscope Board Member and Double Paralympic gold medallist winner Danielle Brown was competing at the Archery World Cup in Turkey so was unable to attend herself, but energised attendees via video.
Despite the early 8am start, this very first forum was oversubscribed with 72 registrations and the organisers co-ordinated two separate sessions to enable all attendees with a variety of disabilities to all get involved. The audience, which also featured an eclectic-mix of potential investors, included Dan Pepper – one of the world's best S14 swimmers, having won multiple gold medals at World and European level.
Kaleidoscope head honcho Rai kicked off proceedings by introducing his vision for the sessions and was joined by the first guest speaker, stroke victim and columnist Brad Francis who runs a successful media consultancy, based in Hertfordshire. Despite his early struggles coping with a lack of mobility and image, Brad presented the importance of being disabled-smart in business and government initiatives like the Access to Work scheme and local enterprise business coaching courses.
Next-up, the charismatic Shezad Nawab – a deaf entrepreneur who owns a business consultancy in Birmingham and London. Assisted by his sign-language interpreter Rachael, he demonstrated drive and enthusiasm which made compelling listening. Then followed a presentation from MS sufferer Casper Gray, who specialises in assisting SME's in raising funding and grants for their businesses. When he started his company 8 years ago, he was non-disabled and motivated. Nowadays the challenge is somewhat different as his condition has deteriorated. However, his desire to succeed is stronger than ever, despite his difficulties. His mantra was clear – never give up and use your disability as an asset.
The final speaker was RNIB's London and South East Business Development Manager Michael Page, who briefly discussed how companies could make their websites more disabled-friendly and accessible to people with visual impairments.
Opportunities for networking ensued after the first session with the room buzzing with creativity and enthusiasm, offering the audience a chance to pitch their business idea to potential investors and disabled charities. John Stapleton, Founder of New Covent Garden Soup Company said: "I find myself naturally on the side of the underdog – whether that be senior female participation in the workplace; Irish abroad or providing a level playing field for the underprivileged. Kaleidoscope Investments is a natural extension of this. The programme brings together some fantastic ideas and opportunities, together with great management teams in a revolutionary way. I am looking forward to providing value added to the groups and making investments, where possible."
The second session featured an inspirational presentation from Cerebral Palsy victim and Kaleidoscope board director Shane Bratby, who displayed the passion and drive that helped him succeed in business. As well as setting up and then selling a number of companies in the disability sector, Shane has created a website www.disabledentrepreneurs.com dedicated to helping disabled people into business. The morning conference concluded with lunch provided by RBS and further opportunities for pitching by attendees. Hardeep shared his top 10 tips for business success and the audience were touched by both his personal story of looking after a new-born with severe brain damage together with his experience as an entrepreneur and his association with former Dragon James Caan.
Julie Baker, Head of Enterprise at RBS said: "At RBS, we recognise that self-employment can help many disabled people achieve greater flexibility and independence, and we are pleased to work with organisations that provide support and opportunities to help entrepreneurs of all abilities reach their full potential in business.  We want to encourage individuals from all backgrounds to have the confidence to start up and grow their own businesses, and we are proud to be associated with Disabled Entrepreneurs."
Hardeep concludes "I was genuinely overwhelmed by the calibre, passion, drive, enthusiasm and sheer determination of the people in my midst – the energy was incredible. There was a real willingness for people to help and encourage each other. My objective was to highlight the needs of disabled entrepreneurs and give them a platform through which they can start to realise some of their dreams and I believe we achieved this. I would also like to thank RBS & Natwest for being so progressive and supportive of our initiative." Save the date for our next event – Disabled Entrepreneurs Conference: Friday 24th July; 1-6pm. Bishopsgate. Further details